Since 1968 Consolidated Laundry Equipment Inc., has delivered exceptional service in the commercial and industrial laundry equipment market throughout the Carolinas and Virginia, earning us our flawless reputation as the industry leader. We supply laundry design consulting services, new and used equipment on a sale or rental basis, and servicing, repairs and maintenance to a range of different industries in the southeast United States.
Some industries where we are particularly active and our services are highly sought-after include:
Laundromats
If you're just starting out or maintaining a coin-operated laundromat or in-house facility, laundromats require equipment that does the washing and drying of your customers' clothes, linen and other household items. These facilities are established for the convenience of residents living in cities, towns, condos or other residential premises. Whether your laundromat serves the general public or a select group of people, you need reliable, state-of-the-art industrial laundry equipment to handle a large capacity of washing and drying on a daily basis.
Dry Cleaners
Dry cleaning is the process of cleaning fabrics using chemical solvents rather than water and specialized dry cleaning equipment. Appliances needed for this type of business operation include:
"*" indicates required fields
Hotels and Leisure Resorts
Vacation and leisure resorts are a popular way for families to relax and have free time. The hospitality industry has a constant demand for laundry facilities, with almost every property offering specialty services to guests. In addition, quality bed linen, blankets, towels, napkins and staff uniforms are vital for high-performing hotels and resorts. At Consolidated Laundry, we understand how to optimize your hotel's profitability while simultaneously producing flawlessly laundered items to keep your guests happy!
Whether you need standard commercial washing machines and dryers or industrial size equipment, Consolidated Laundry can help you design and outfit your facility with the appliances you need. We collaborate with a number of established vendors, including Cissell®, Union and Sankosha®and others, which enables us to deliver the new and used equipment that is best for your application.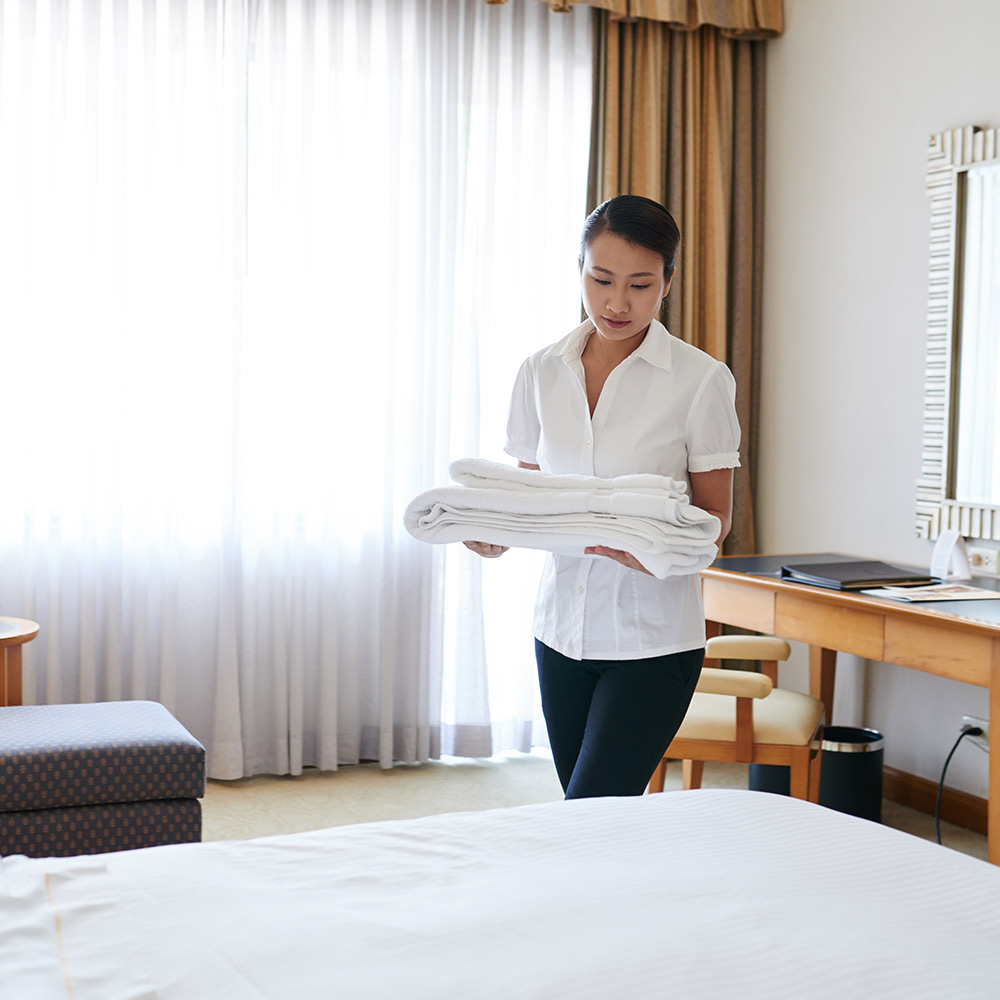 Healthcare
Hospitals and clinics are under continuous pressure to ensure the sterility and cleanliness of their facilities, and this requires them to have reliable laundry facilities. They also need access at all times to appropriate commercial laundry chemicals to ensure they comply with industry-standard sanitization practices. At Consolidated Laundry Equipment, we have the knowledge and experience to work with your representatives to determine the best machinery, chemicals and processes for maintaining the bacteria-free environment that is so essential.
Sports Teams
It doesn't take much to get a uniform dirty if you play sports! Whether you play in the big leagues or hometown team, your uniform is a symbol of pride. Dirt and grime can play havoc on your clothes so cleaning them properly helps to prevent the spread of viruses, superbugs and bacteria such as MRSA, hepatitis and even common germs like colds and flu. By installing industrial laundry equipment in your team's facilities you can protect the health of both athletes and staff. Our knowledgeable consultants at Consolidated Laundry can provide helpful advice and on-site support to ensure you optimize your use of space. We can arrange the purchase of new and used laundry equipment as well as the commercial cleaning chemicals you need.
Schools
In an interesting article on The Best Schools, researchers identified that an important factor in providing successful education in some communities is often the need for laundry facilities. Children without clean clothes don't show up in class, and chronic absenteeism is a definite predictor of academic problems.
Schools in California tested the theory by installing commercial washing machines and dryers for use by students, and found 93% of the participating students improved their attendance by almost two weeks. The program has since been expanded to other schools in the region, and several educational institutions in North and South Carolina and Virginia are considering doing the same.
Apartments
Apartment buildings and condominiums are not fully equipped without laundry services for use of the residents. Whether you have existing industrial laundry equipment or are looking to invest in new, state-of-the-art coin-operated laundry equipment, Consolidated Laundry can help. We can give you a customized proposal detailing the recommendations of our specialist, which covers the acquisition of equipment and the best way to use it. Our commercial laundry equipment rental options enable you to structure your facility according to your needs, without a huge capital outlay.
Call us today for a comprehensive consultation on the best way to equip your business or facility with laundry equipment.