Consolidated Laundry Covers All Your OPL Needs From NC, SC to VA
At Consolidated Laundry, we specialize in the sale and maintenance of on premises laundry (OPL) equipment. Serving NC, SC & VA, Consolidated Laundry proudly partners with hotels and resorts, apartment complexes, athletic facilities and other businesses seeking equipment, parts or service for their commercial laundry devices.
Because of our wide range of OPL services, equipment and parts, Consolidated Laundry is your go-to for all your OPL essentials. Don't let inferior OPL devices hinder the success of your business-go with the industry leader.
Rely on the Expertise of Our Efficient Sales Team
While other OPL equipment distributors focus on simply selling their products and services, Consolidated Laundry's savvy sales team thrives on guiding our clients and advising them on the commercial laundry appliances that would best serve their businesses. Count on our reliable sales representatives to help you assess your business's OPL needs.
Ready to discuss your OPL options? Speak with a Consolidated Laundry sales team member today!
Our Service Department is Unparalleled
As one of the largest suppliers of parts in the Mid-Atlantic region, Consolidated Laundry employs the most qualified experts with decades of industry experience. From NC, SC & VA our service professionals can assist you in procuring and maintaining your commercial laundry equipment. In addition, our service team can help you find the right parts should your equipment need servicing, and, with our wide collection of brands, you're sure to find the materials necessary to make your industrial laundry devices last.
Our service technicians will use their years of industry knowledge to fulfill all your commercial laundry repair and service needs better than any of our competitors.
"*" indicates required fields
Flatwork Finishing Products in North Carolina, South Carolina and Virginia
Whether you're located in the Tidewater region of Virginia, Raleigh, NC or Myrtle Beach, SC Carolina, Consolidated Laundry can furnish your laundry with the latest and greatest flatwork finish products. As a company that works with a wide selection of laundry and dry cleaning facilities, Consolidated is equipped with an ample collection of products and services specially created for our different customers. What's more, we understand our clients diverse needs, so we offer a range of commercial laundry accessories, including equipment for flatwork finishes.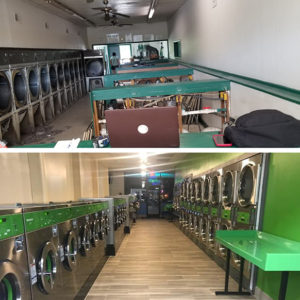 Flatwork Finishing Equipment & Services Throughout NC, SC & the Chesapeake Area of VA
We partner with the some of the leading flatwork ironer manufacturers in the world, including Continental/Girbau and OnePress.
In addition to working with the commercial laundry industry's major equipment providers, we offer flawless repair and maintenance services and have all the parts your establishment needs to conserve and cultivate your budding or long-standing business. Get the most out of your money–invest in services from Consolidated Laundry and watch your profits soar.
Learn More About Our Flatwork Finishing Services – Contact a Consolidated Laundry Industry Professional
Discover what our flatwork finishing services can do for your laundry business by speaking with a member of our knowledgeable team of commercial laundry equipment technicians who can answer all your questions and discuss what products would best fit your commercial laundry equipment needs. Contact us today to speak with a Consolidated Laundry specialist.
For a free estimate, fill out the Request a Free Quote form or contact us toll-free at (800) 227-6149.